The Cinderella Pleated Butterfly belt is yet another must have obi belt from the Kerry Parkers belt collection that is truly a fashionista's dream come true. In my previous blogs I have talked about many statement belts that can give a total makeover to your wardrobe. In this one we will concentrate on this single peplum belt that is a bridal couture essential.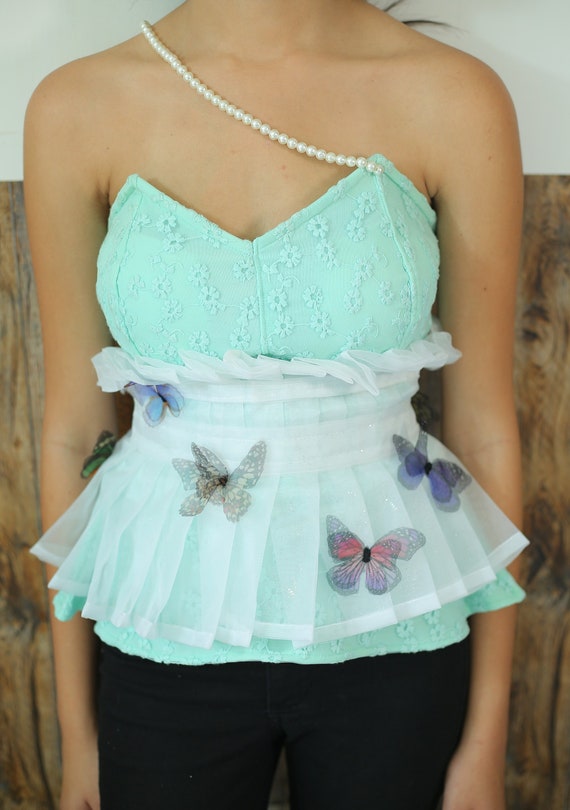 This obi belt has a peplum design with a tie up to fasten it at the back. The material used in the making of the belt is soft white polyester organza that is as comfortable and alluring as well. The peplum belt with a touch of glitter is every brides fantasy. Be it your engagement outfit or your reception dress, this classic ivory obi belt will take it a notch higher.
The peplum belt also comes largely embellished with beautiful, delicate, handcrafted silk organza butterflies that gives it yet another fairytale feature which makes it a must have.  The belt adds a magical element to every outfit transforming it to a delightful outfit.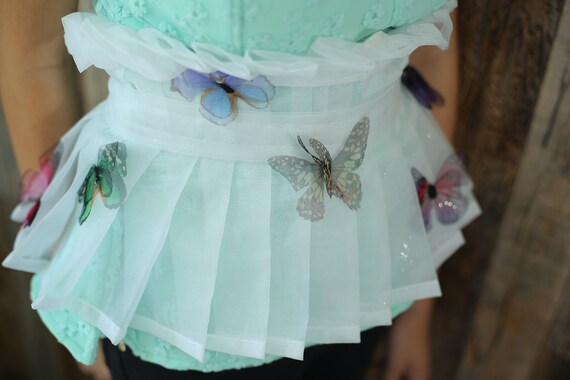 Like all items produced by Kerry Parker, their statement belts have a multifunctional aspect to it which enables it to be paired with a variety of dresses in bright, pastel, or neutral colors whether it be formal or informal. The peplum belt can be made a statement accessory for bodycon dresses or sheath dresses in neutral colors or a corset pastel dress which will meld with the white of the belt creating a formal, graceful look. This can be coordinated with formal heels and matching jewelry or can be kept to a bare minimum.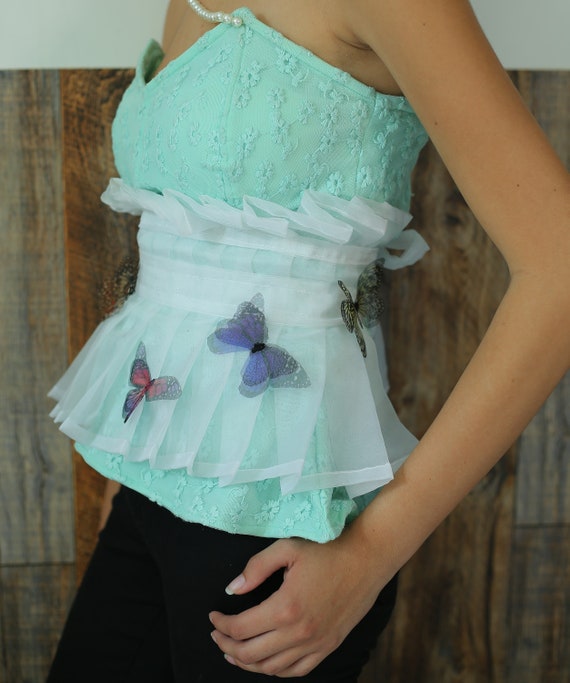 The butterfly peplum belt can be paired with a jet black sequined short skirt or black leather pants and matching tops like strawberry swirl crop top from Kerry Parkers collection of apparel for a cute party look. The obi belt can also be accessorized for a super casual look by pairing it with your regular jeans and tops like Amelie abstract crop top from KP's apparel collection for a sexy casual look which can be paired with sneakers and headbands for a sexy casual look.
For a sexy look, pair it with a grey shift dress or pink slip dress, this belt is the princess version of a corset belt. If you like Kim Kardashians style, but are still a fantasy lover at heart who dresses cute then this belt was made for you. It defines your curves with precision and yet keeps the look elegant. For bridesmaids this belt is a fantasy, they can give their outfits a hint of white without stealing the lime light from the bride. Take this lovely, limited edition piece, trust me your dinner parties and lunch dates will never be the same again. With this accessory every look is high fashion.
Ladies get your must have statement belts today from Etsy and have a chance to flaunt it all!
Happy shopping!