The fashion trends dating back to the 90's are indeed doing rounds as the ever so stylish fishnets are back in trend. Some accessories have the power to take an outfit from yay to nay in a matter of seconds. Fishnets are now being made into real fancy affairs, they are adorned with embellishments to make them more versatile. You can go for little and subtle embellishments or you could go for something much more lavish. My personal favourite is the flower struck fishnet, a black fishnet with a dash a sparkle yet subtle flower detailing, is enough to do all the magic. It instantly adds a very dapper yet a chic look to the entire outfit.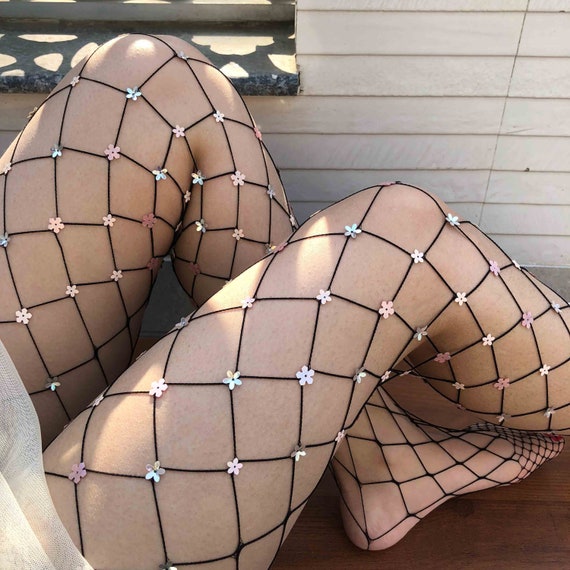 Fishnet stockings are made of nylon spandex making them suitable for all sizes. These fishnet tights are very minimalistic, and can capture the entire focus, even if the outfit is extremely simple and casual.
 Embellished fishnets can be styled in numerous different ways:
#KEEPING IT CASUAL
The most effortless yet a dressy way to style fishnet stockings is to put on an oversized or a baggy tee tied up in a knot along with an ankle length high-waisted denims. Loafers or a pair of funky flats can never go wrong with any high waisted bottoms. And to top it off, a messy top knot with a nude lip can never go out of style.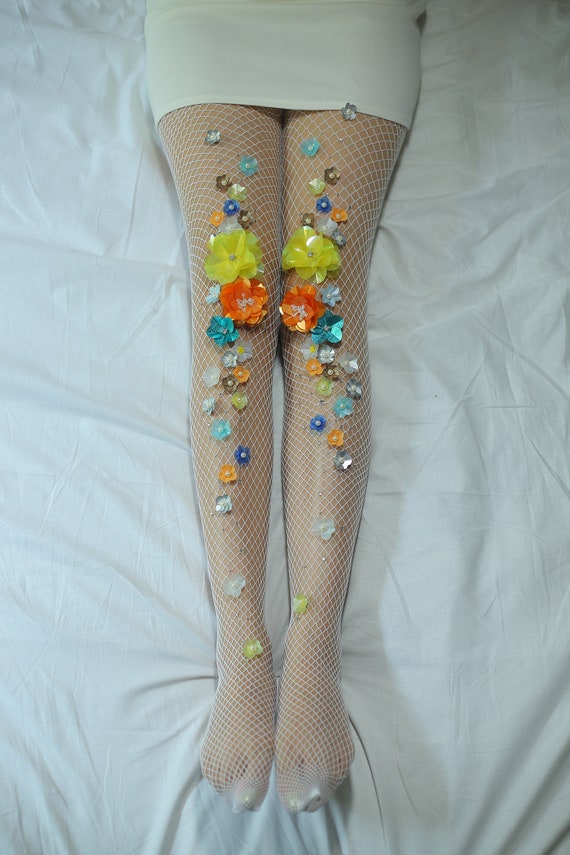 #CLASSIC STREET STYLE
 The classic look that comprises of a grey turtle neck teamed up with cigarette pants and a pair of ever so chic oxford shoes to go with the entire street style vibe. Beachy waves or loose curls with a bright coloured lip and well-groomed nails, is something that would never go wrong especially in the fall season.
#DISTRESSED DENIM BOTTOMS
The simplest way to style embellished fishnets is to wear them under any sort of denim bottoms. Be it a pair of boyfriend jeans or a pair of denim shorts, the appearance of fishnets peeping through the distressed part of the bottoms, always seems very stylish. Fishnets being seen above the waistline of any denim bottoms along with a basic white crop-top and a pair of sneakers, seems like a perfect movie date outfit.
#SKIRTS CAN NEVER GO WRONG
A pair of fishnet with a skirt can never go wrong, without a doubt. A button down skirt or a white leather skirt paired up with any fishnet stockings, can make the entire outfit seem very edgy.  Knee high boots and skirts have always complimented each other, but with a fishnet tights, the little texture that adds up makes the outfit on point. Fishnets can too be styled with closed toe shoes or pumps that gives it a very classic look.
It does not matter the kind of taste you may have in style, embellished fishnets can be an excellent addition to your wardrobe. These are perfect for any occasion because they add a bit of extra glam to the outfit. Fishnets can also be worn in different colors and textures depending upon those that fit your style the best. So go rock those fishnets, GIRL!